Please plan on joining us in the fall for one (or more!) of our groups! CAPS Groups can be a great way to make new connections, learn new coping skills, and to take care of yourself. All groups are available for all currently enrolled Sonoma State students.
We offer TWO different types of groups:
A Drop-In Group only requires students to e-mail CAPS for the Zoom link or location. The groups meet once a week and will be offered for the duration of the semester if students are attending. Drop-in groups are more flexible for folx to come and go from the group as their time/interest allows.

With a Process Group, regular attendance is needed so that deeper and more meaningful connections can be made. When a student expresses interest in a process group, they will have a brief conversation with the group facilitator before joining to see if the group is a good fit for their needs. 
Email us at: caps@sonoma.edu or call: (707) 664-2153 to get started or for more information about our offerings!
Spring 2022 Workshops
Keep A Seawolf SAFE with Dr. Andrew Kerlow-Myers
Keep a Seawolf SAFE is a 90-minute workshop that prepares SSU students, faculty, and staff to better support distressed students. 
Participants will learn:
S igns that a student may be struggling, how to
A sk students how they are doing, how to
F ocus on referring to appropriate resources, and how to
E scort a student to CAPS, whether in-person or virtually
Current Training Dates:
1/27, Thurs, 3-4:30pm
2/22, Tues, 10-11:30am
3/30, Wed, 2-3:30pm
4/29, Fri, 10-11:30pm
5/12, Thurs, 3-4:30pm
Fall 2021 Groups
Monday
2:00 PM, Mindful Self-Compassion (Drop-In) Group: Pathways to Self-Acceptance, Inner Strength, and Resilience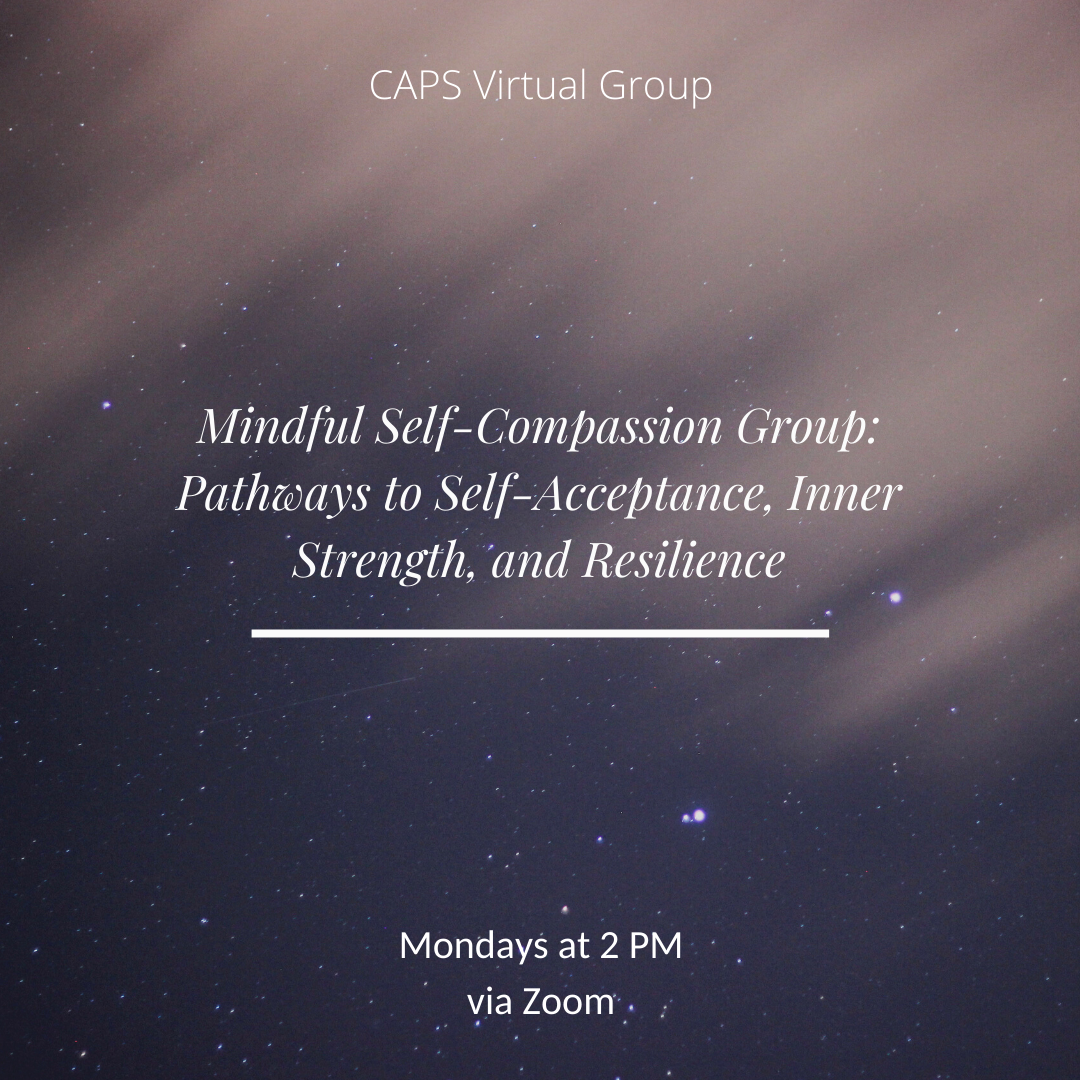 In this group, you will learn how to engage in mindfulness and self-compassion. Come experience a variety of self-care and mindfulness practices to enhance well-being, feel more centered in the face of difficult situations, and cope with anxiety, stress, and challenging emotions. Find new ways to not just manage overwhelming emotions but to also honor and accept them!
Zoom Meeting ID : Coming soon
Wednesday
11:00 AM, Not The Perfect Family (Process) Group
Is dealing with your family difficult or even emotionally painful? Please join this supportive and safe space to get help with current family issues or concerns from the past that are impacting you now. Group members support each in understanding and coping with family relationships
12:00 PM, Women of Color Collective (WOCC) (Drop-In), facilitated by Dr. Isa Avila Saiter and The HUB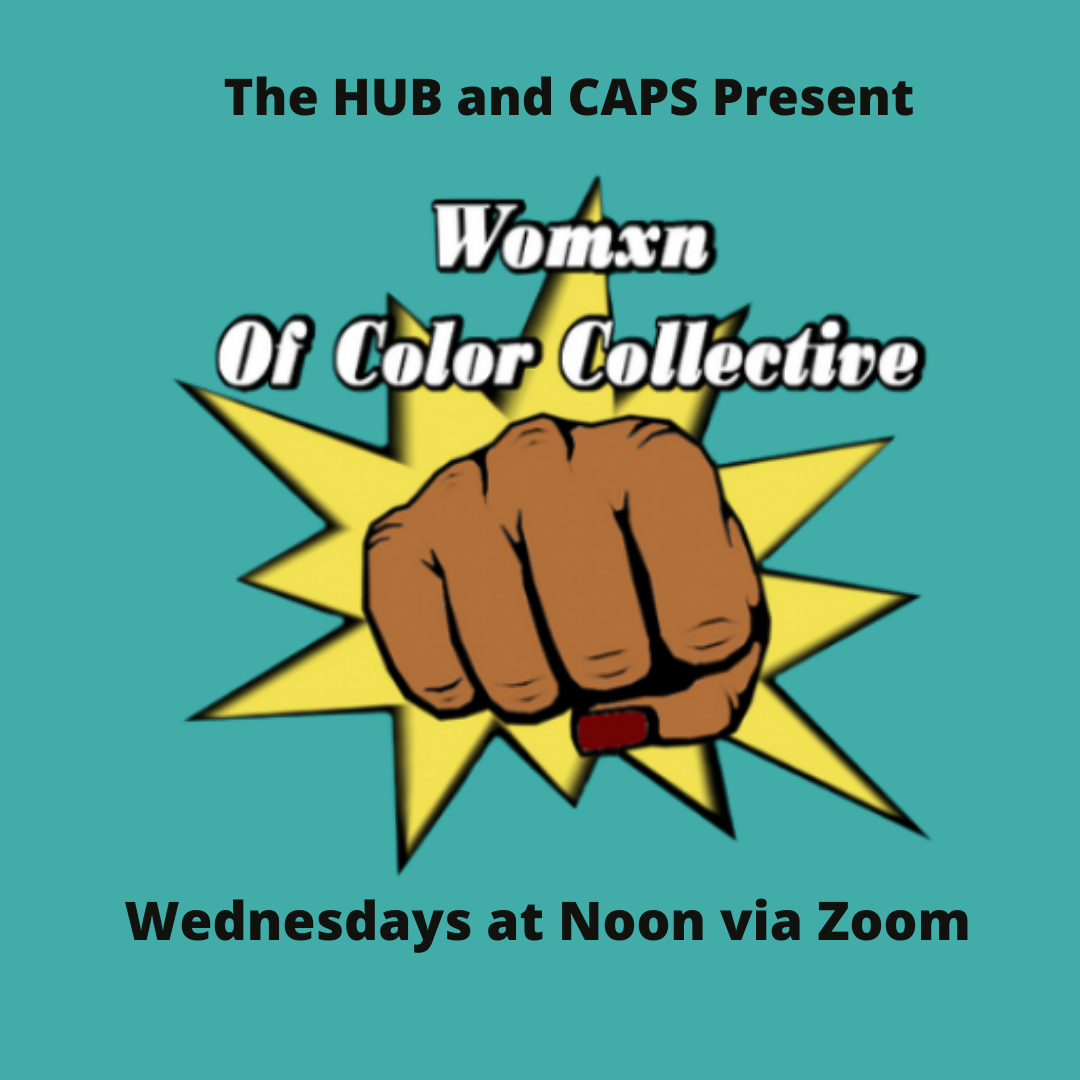 Join us in creating community with SSU womxn of diverse and intersecting cultural identities. Share and be inspired by our collective stories and experiences in a confidential space. Explore, process, and empower each other! Contact the HUB or CAPS to join.
1:00 PM, Fidget to Focus: ADHD and Learning Skills (Drop-In) Group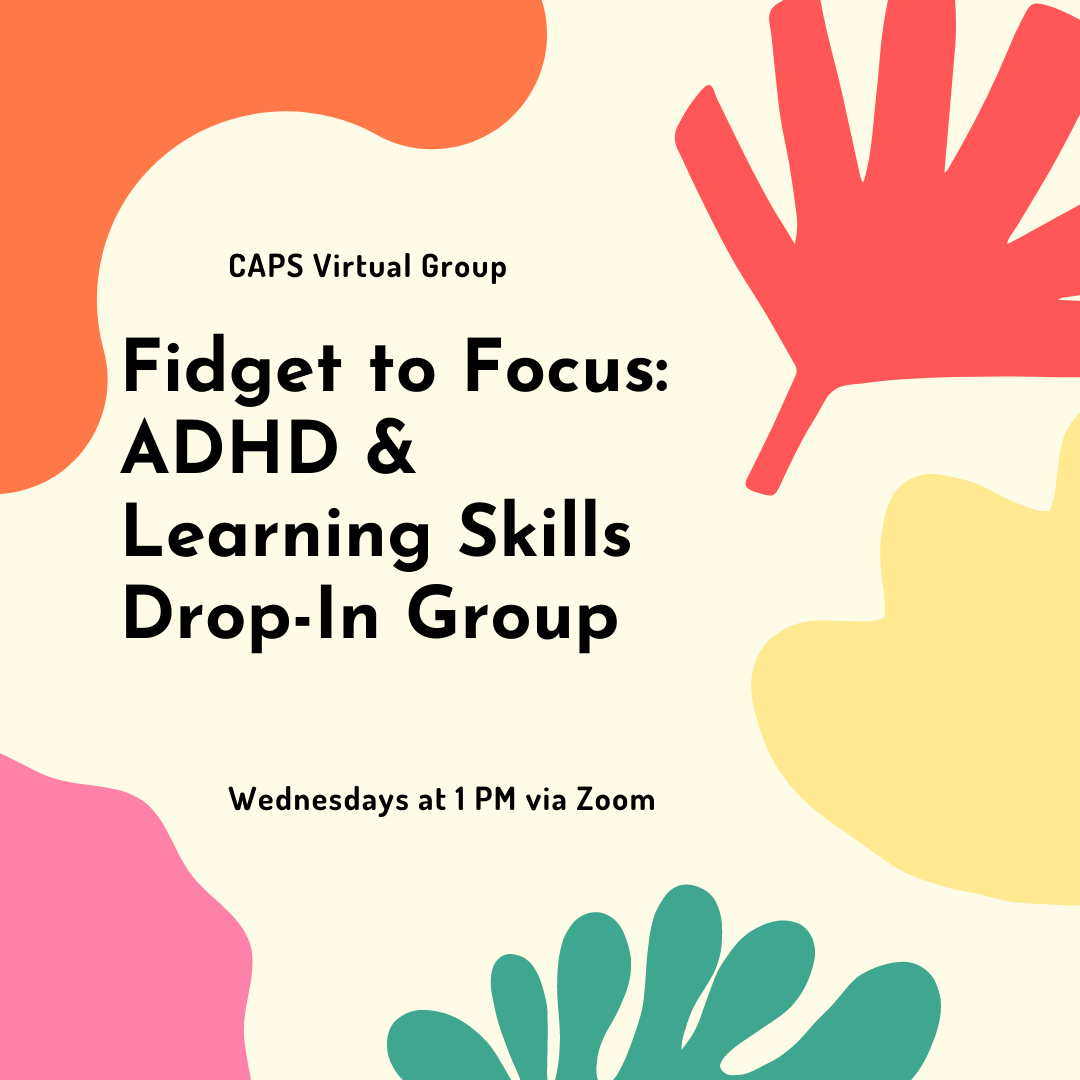 This group is designed to teach skills for managing symptoms associated with ADHD. We will discuss strategies for staying on top of academic demands while developing coping skills to help maintain focus. A formal ADHD diagnosis is not necessary for this group. The main topics of conversation concern organization and maintaining motivation to complete assignments (whether school or life related) so this group can be a great space for anyone struggling to stay on top of their academic schedule.
These Additional Groups Coming Spring 2022!
Tuesday
12:00 PM, Grief & Loss in the Time of COVID-19 (Process) Group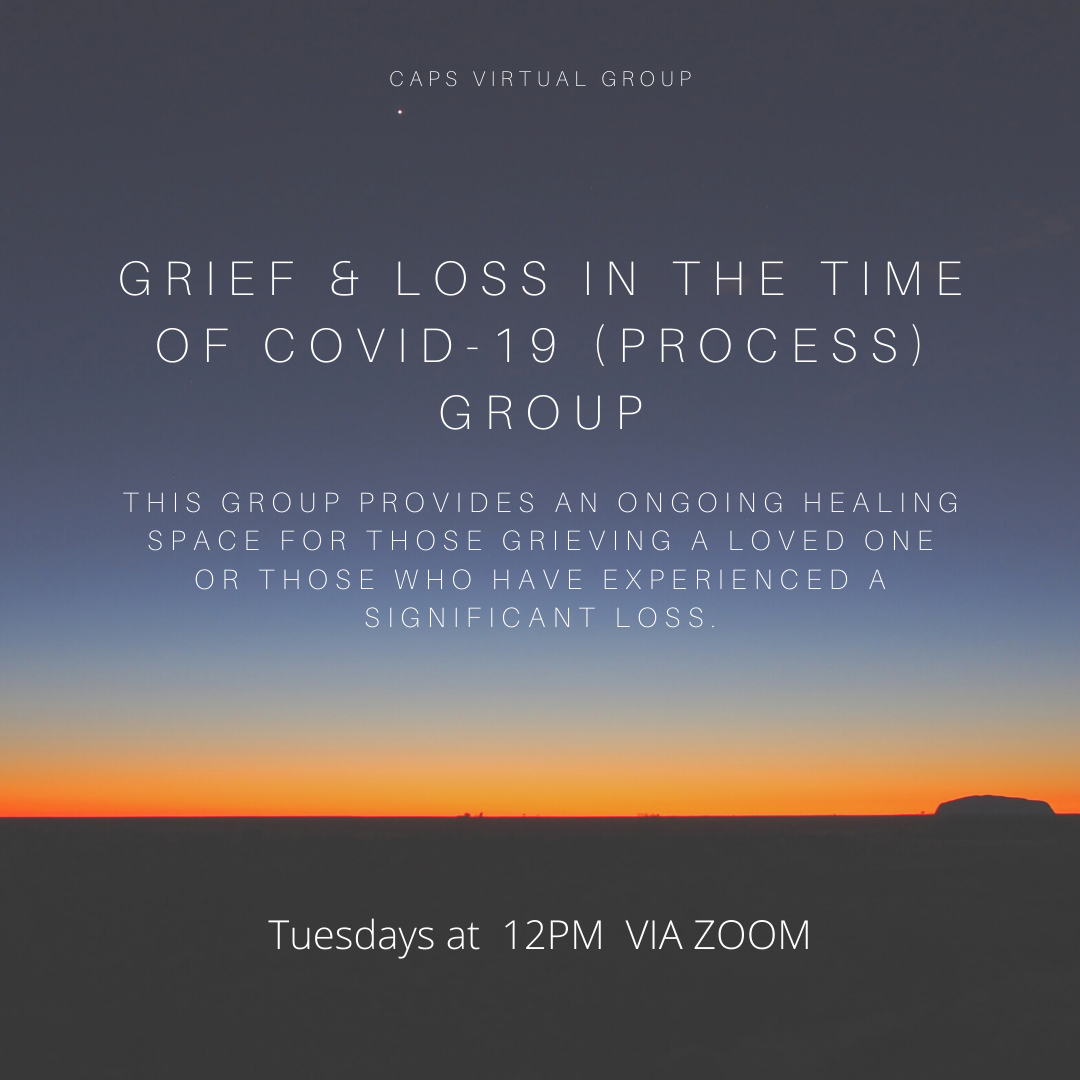 This group provides an ongoing healing space for those grieving a loved one or those who have experienced a significant loss. Members will be a part of a community that will facilitate moving through the grief process by sharing experiences, reflecting on the possible compounding impact of loss during the COVID-19 pandemic (regardless of if loss is related to the virus or not), and building empathy and mutual support.
12:00 PM, Managing Racial Trauma & Stress (Drop-In) Group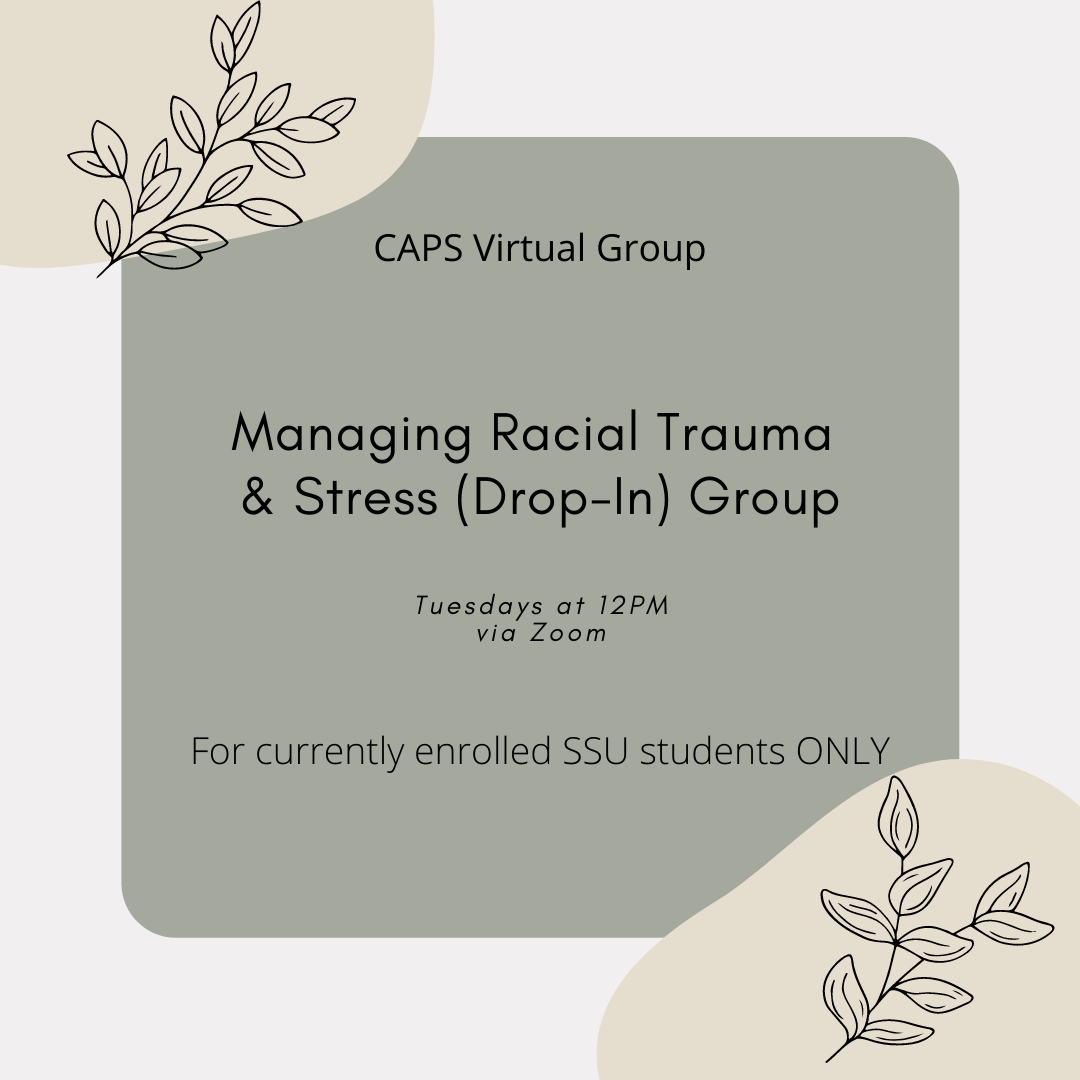 As we engage in responsible physical distancing to support everyone's well-being during this time, we also acknowledge that communities draw strength in solidarity and fellowship. This group is for SSU students who identify as Black, Indigenous, and/or People of Color and provides a supportive and confidential space to explore ways to manage the impact of racial stress and trauma, and to engage in healing individually and as a collective.
Wednesday
3:00 PM, Common Thread: LGBTQIA+ Support (Drop-In) Group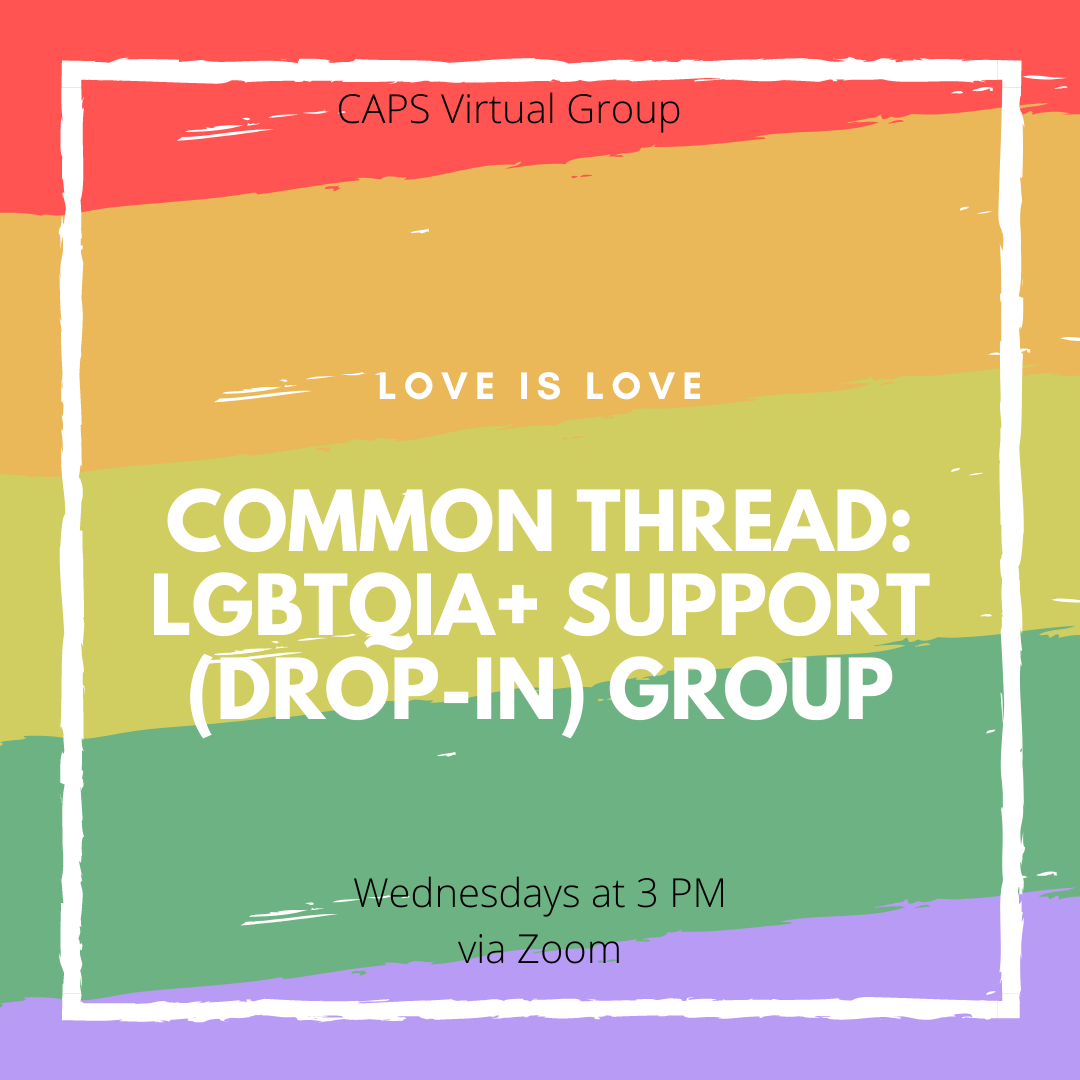 This group is designed to provide a supportive, affirming and confidential space for SSU students of LGBTQIA+ lived experience, including those who are questioning, to share common experiences, and deepen their self-understanding.
Thursday
12:00 PM, "I Want to Know What Love Is": A Relationship (Process) Group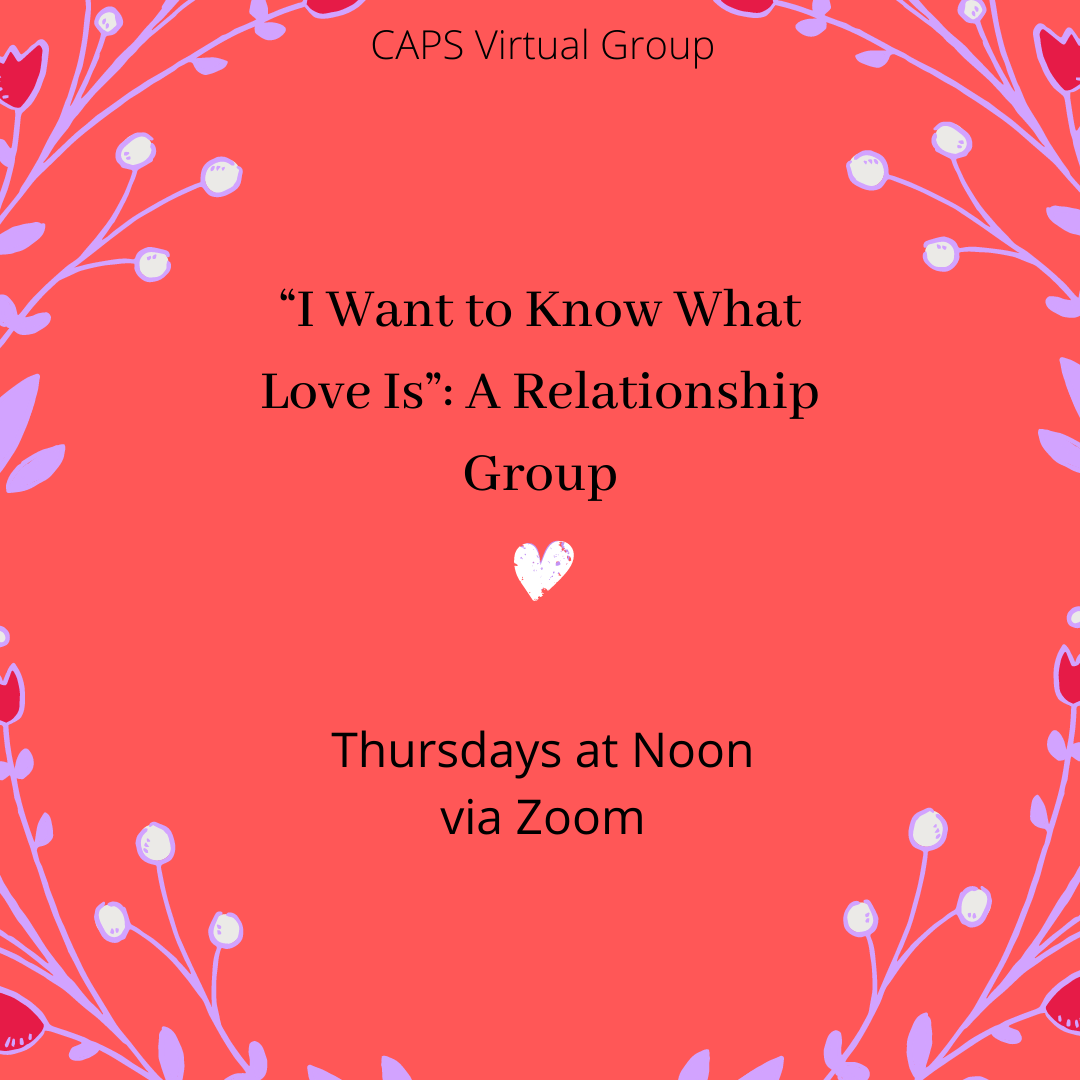 Are you struggling with family, social, or romantic relationships? This weekly group focuses on navigating the ups and downs of building and maintaining healthy, fulfilling, and close relationships. Members support each other in processing relational joys and difficulties in a safe and supportive environment.
1:00 PM, Womxn's (Process) Group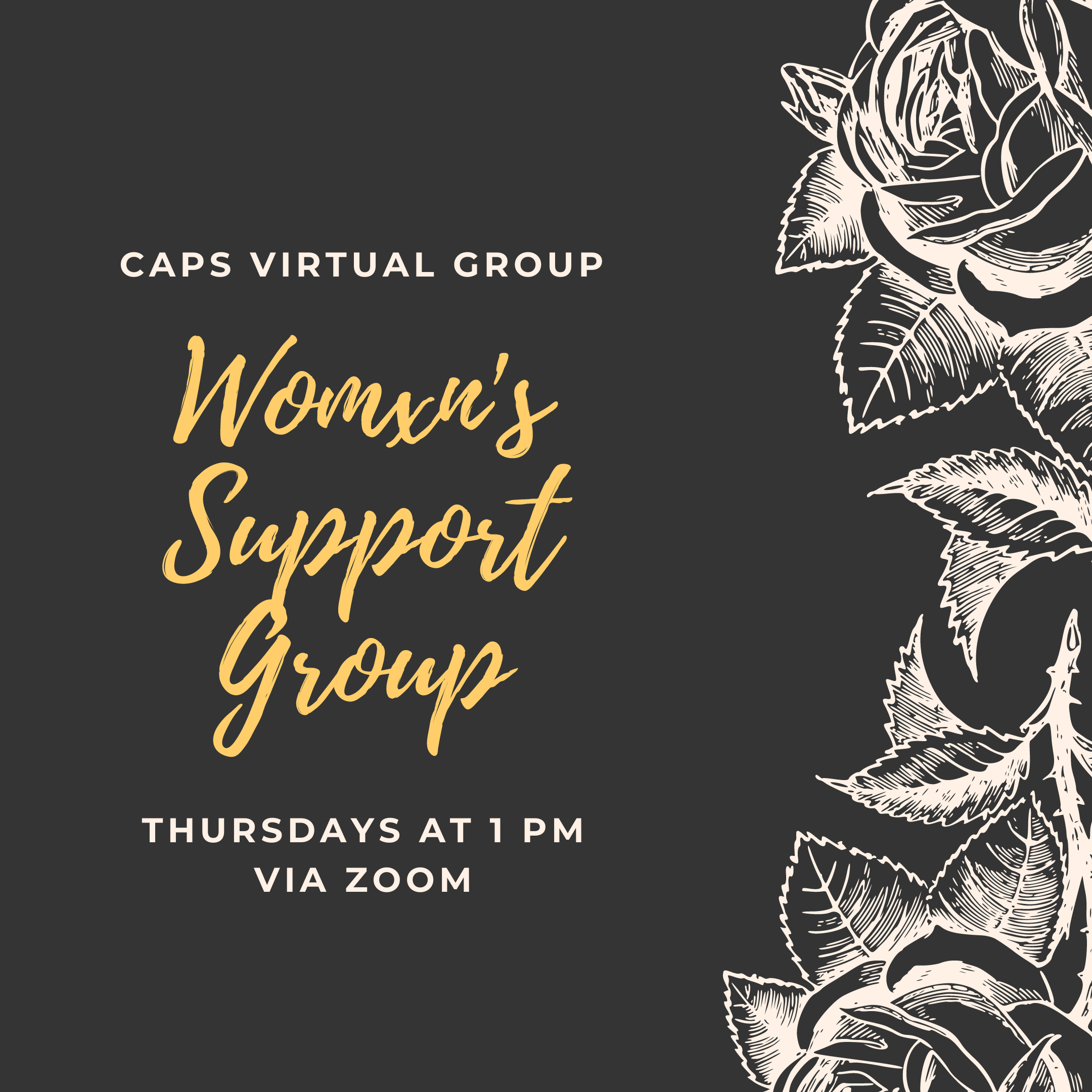 Join with other SSU womxn to share your unique story, receive, and provide support in a confidential environment. Issues of discussion may include but are not limited to: relationship difficulties, life balance, stress management, trauma, negotiating identities, assertiveness, body image, and self-esteem. Empower yourself and each other!
3:00 PM, Survivors of Sexual Assault (Process) Group
This group is designed to provide a supportive space for survivors of sexual assault, including childhood sexual abuse, intimate partner and non-partner sexual violence. Group members will have the opportunity to share experiences, support each other, and build a greater sense of control and empowerment. Participants will learn about common reactions to these types of traumas, will gain greater understanding about the ways they can impact different areas of functioning, and will develop skills for improved coping as part of the healing process. We also focus on cultivating peer support networks for those who share these experiences
Friday
1:00 PM, Building Connections for Men: (Process) Group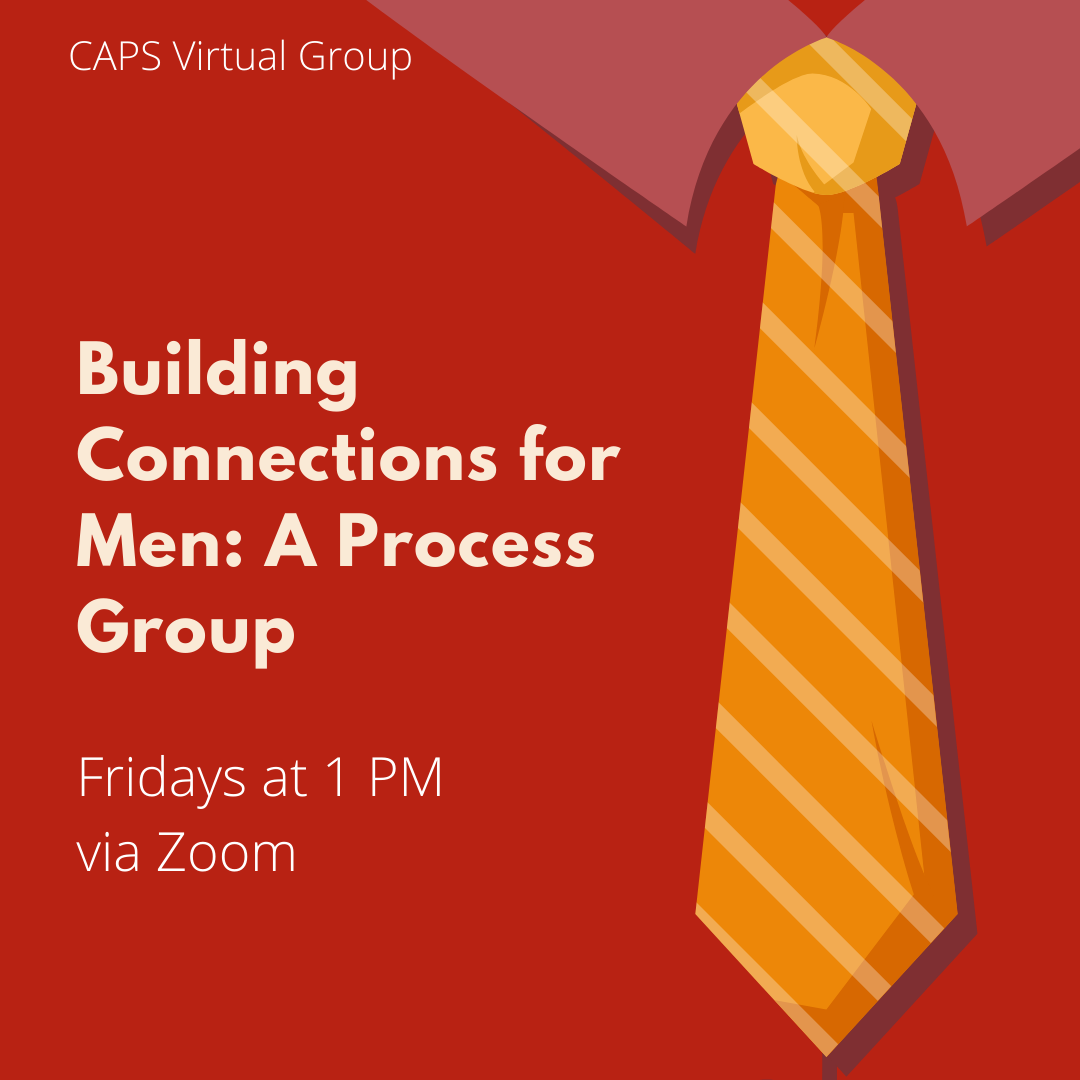 This group is designed to help men connect socially with others. Group members will work on gaining social confidence in a supportive setting. This group welcomes any male-identified SSU student who wishes to build better connections with others.